U2 Joshua Tree Tour 2019
---
·
Bono's Madrid setlist, 28/11/22
·
Bono's Paris setlist, 25/11/22
·
Bono's Berlin setlist, 23/11/22
·
Bono's Dublin setlist, 21/11/22
·
Bono's Manchester setlist, 19/11/22
·
Bono's Glasgow setlist, 17/11/22
·
Bono's London setlist, 16/11/22
·
Bono's Los Angeles setlist, 13/11/22
·
Bono's San Francisco setlist, 12/11/22
·
Bono's Nashville setlist, 09/11/22
read more...
U2 rock New York City

Posted on Monday, November 22 @ 20:13:01 CET by Macphisto
-----------------------------------------------



Ben writes: U2 just drove through Times Square (NY) while playing on the back of a semi-trailer!!! Not sure but looks like they might be stopping in front of Virgin Megastore (across from MTV) studios.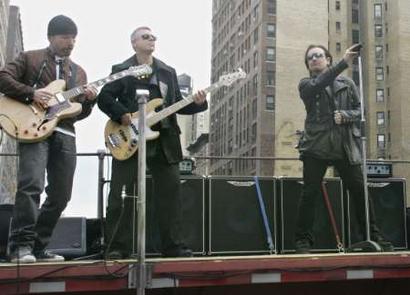 U2 front man Bono performs with The Edge and Adam Clayton during a video shoot for their song 'All Because of You,' on the back of a flatbed truck in New York, November 22, 2004 as the band made a round of appearances in the city. The song is from the recent album 'How to Dismantle an Atomic Bomb.' REUTERS/Peter Morgan



Sickshow.com has a nice video of U2 performing All Because Of you in the streets of New York from the flatbed truck.