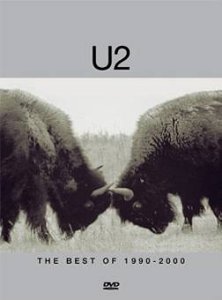 U2 Best of 1990-2000 (2002)
Released in 2002
1. Even Better Than The Real Thing (Main video plus The Perfecto Mix Video)
2. Mysterious Ways
3. Beautiful Day
4. Electrical Storm (Main Video plus the "U2 Sur Mer" mini-documentary)
5. One (Main video plus the Video version 3 and "The Story Of One" mini-documentary)
6. Miss Sarajevo (Main video plus the hidden "Missing Sarajevo" mini-documentary)
7. Stay (Faraway, So Close!)
8. Stuck In A Moment You Can't Get Out Of (Main Video plus hidden track Alternative Video)
9. Gone (Live Video from Popmart tour)
10. Until The End Of The World (Live Video from Zoo TV tour)
11. The Hands That Built America (Theme From Gangs Of New York)
12. Discotheque
13. Hold Me, Thrill Me, Kiss Me, Kill Me
14. Staring At The Sun (Main Video plus the Version 2 video)
15. Numb (Main video plus the Video Remix version)
16. The Fly
17. Please
18. If God Will Send His Angels
19. Who's Gonna Ride Your Wild Horses
20. Lemon
21. Last Night On Earth
22. Mofo (Phunk Force Mix Video)
23. The Ground Beneath Her Feet
On the DVD : Commentary by the directors who include Wim Wenders, Kevin Godley, Stephane Sednaoui, Anton Corbijn and Jonas Akerland. Seven bonus tracks - "Please", "If God Will Send His Angels", Wild Horses, Lemon, Last Night on Earth, MoFo and Ground Beneath Her Feet. Alternative versions of the clips made for different countries, as early cuts or to accompany different mixes.
Exclusive content includes mini documentaries "U2 Sur Mer", "A Story of One" and "Missing Sarajevo".